COVID-19 PLANNING & UPDATES
MAY 15, 2020
VALENCIA Trail Race postponed to November 21, 2020, read update here.
MAY 5, 2020
Hello fellow runners, volunteers, sponsors, partners, and friends,
We hope this message finds you well and in high spirits. The last few months have been a challenging experience that nobody could have anticipated. It has impacted all of us and those we love in many different ways. We hope everyone is staying strong, healthy, and resilient so that we can come out of this pandemic together.
We want to update you on the latest from New Global Adventures and our amazing race experiences in the face of the COVID-19 pandemic that is impacting everyone.
We have received inquiries about our future races. While we don't believe in canceling any of our races as we love them and everyone that is a part of them. Yet, we can't be foolish or stubborn when it comes to people's lives, with hundreds to thousands of people that are a part of our events, the welfare of participants including runners, volunteers, sponsors, vendors, family, and crew is always a priority at our events. Thus some events have or will be postponed. Still, these races are the means to support and care for our family. Our planning is that we will move forward with the best-case scenarios while making any necessary safety adjustments to adapt to the circumstances.
THE CURRENT PLAN
Based on a lot of "ifs," is as follows:
If there is a solid chance of still hosting the race, we proceed and host it with additional precautions to host it safely.
If it becomes abundantly apparent that the race will not be able to take place as scheduled, we will reschedule for a suitable date in the future.
If the rescheduled date does not work for you, you have a few options available for your entry:

Change to virtual and earn the race medal and swag
Defer to 2021
Cancel and receive 50% credit towards any future event of ours in California within the next 2-years

Until gathering bans are officially lifted, rescheduled dates will be aspirational for the best-case scenario, they will be rescheduled again as needed. In other words, if we reschedule an event from May for June, that's because it is the best-case scenario for it to happen at that time. Like everyone else is experiencing, nothing is certain until this COIVD-19 is gone, we're simply doing our best to adapt to the circumstances. If that date doesn't work out, we will reschedule again until we get to a time to host the race. Anyone signing up for a race can be sure that if that race is rescheduled/canceled because of the current gathering bans getting extended, their entry is valid for when the event is hosted or choose one of the alternative options listed above.
If a race does proceed, we will post an updated process and details on how the race will adapt to be as safe as possible for everyone.
STATUS OF CALIFORNIA RACES
Registration is open for all our California races. For those who are not ready to participate in person can choose to do most of these races virtually right now. We have on hand the awesome medals and race swag for the VALENCIA Trail Race and Silver Moon Race virtual participants, packets are being mailed out weekly.
STATUS OF INTERNATIONAL RACES
Many have also inquired about New Global Adventures' ability to survive all this as it is how we sustain our family. Like so many organizations that depend on the ability to bring groups of people together, we have been essentially closed down (in operations and income) since early March. We were ready to handle slower times but never anticipated being closed for months. Yet, we are resilient and are determined to survive, we are 100% determined to continue into the future, we will be able to successfully resume operations in the future once the mandates have been lifted. We even have a few awesome new events that we are preparing to announce for next year, so stay tuned…
To those who have registered for our races either run in person, as virtual races, and ordering our limited edition VALENCIA Trail Race or Silver Moon Race shirts during this time are greatly appreciated as it has helped us a lot. We sincerely thank you for your support – it is making a difference!
We know there are many friends out there who have suffered from this illness, lost their jobs, or are facing an even more uncertain future. We hope our community of friends, family, and runners will be able to help all those who need love and support to make it through this together.
New Global Adventures would not have made it over the last 5-years without the tremendous amount of people in the community, the friendship, and love that has been supporting us through our events. Your success at our races has been our success and we cannot overstate our appreciation for all the love and understanding we have received. You have given us so many positive memories that are uplifting our spirits in these challenging times. We love our races as much as you love to be a part of them. We hope that everyone can stay safe, positive, and keep running so you can come run with us soon.
Love and happy running,
Terry, Jenny, Ryan, and the New Global Adventures Team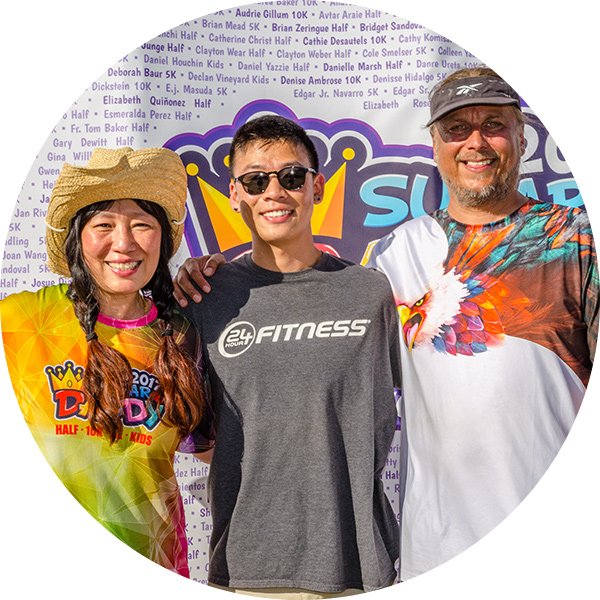 MARCH 18, 2020
Silver Moon Race postponed to October 31, 2020, read update here.